When I posted the story of
my daughter's 13 quilts
, many of you enjoyed it and RC even suggested I submit it to
Quilt Story
. Well,
my sister
took it out of my hands and submitted it on my behalf!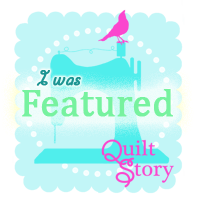 Heather and Megan appeared to share your enthusiasm and have featured the post today! That post means a lot to me, not just as quilter but as a mother, and it warms my heart that it was embraced by all who read it.
Thank you all for dropping by, for your encouragement and for simply sharing a few minutes of your day with me.